Web 2.0 : ZoomInfo
Site Name : ZoomInfo
URL : http://www.zoominfo.com
Description : ZoomInfo, the premier summarization search engine, delivers fresh, comprehensive information on over 29 million business professionals and 2 million companies across virtually every industry. How do we do it? Well, at the risk of being boastful, we have incredible technology that this guy and this guy and this guy invented. ZoomInfo finds, understands and extracts information from millions of online sources such as Web sites, press releases, electronic news services and SEC filings and summarizes the information into a comprehensive format. Basically, ZoomInfo creates structure out of the chaos of the Web.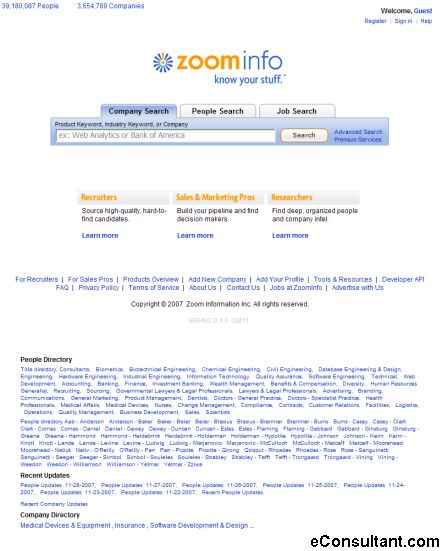 See more : Web 2.0 Sites Logos Index
System Drivers: Is your PC running slow? Speed up your system with the latest System Drivers.
Clean Registry: Is your PC running slow? Speed up your system with a Clean Registry.
Web Hosting: Are you paying too much for web hosting? Compare prices in long list of Web Hosting providers.
Next Post :
Web 2.0 : ZOOOF
Previous Posts :
Your turn. Add your comment.
You must be logged in to post a comment.