Web 2.0 : Zlango
Site Name : Zlango
URL : http://zlango.com
Description : Zlango developed a revolutionary, simple and practical mobile language. It's made up of over 200 icons neatly divided into intuitive and memorable categories. Most important words, concepts or feelings can be expressed by an available icon. It's text-less texting! If you still require text – it can be easily added anywhere in the message, just like typing an ordinary SMS.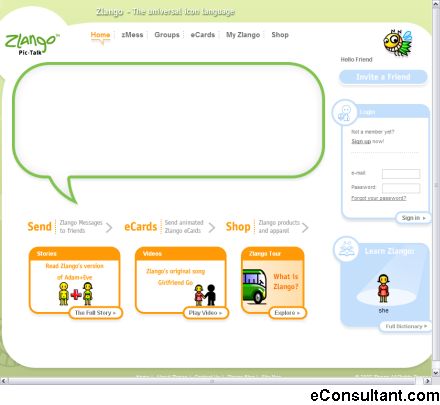 See more : Web 2.0 Sites Logos Index
System Drivers: Is your PC running slow? Speed up your system with the latest System Drivers.
Clean Registry: Is your PC running slow? Speed up your system with a Clean Registry.
Web Hosting: Are you paying too much for web hosting? Compare prices in long list of Web Hosting providers.
Next Post :
Web 2.0 : 30Boxes
Previous Posts :
One Response to "Web 2.0 : Zlango"
Web 2.0 Directory : eConsultant « Dostum Blog Says:
September 9th, 2009 at 9:36 pm

[…] | Zimdesk | Zimki | Zinadoo | Zingku | ZipGarage | ZipLocal | Zippy | Zirr.us | Zitgist | ZiXXo | Zlango | Zlio | zMobs | Zoho | ZohoChat | ZohoNoteBook | Zong | Zoodango | Zookoda | Zoom and Go | ZoomIn […]
Your turn. Add your comment.
You must be logged in to post a comment.