Web 2.0 : Tutorom
Site Name : Tutorom
URL : http://www.tutorom.com
Description : Customise your landing page to show one or more channels of elearning – Computing, School Education, Languages, Business and Finance or Misc. Search for courses or lessons. Rate them. Subscribe to courses or take free courses. Charge for your own courses or make them free. Easily create new courses, with new lesson types added often. Wikis, forums, chats, web pages, links to external content, quizzes and many more. Use project management tools to manage workflow. Wikis, forums and chat also allow for collaboration between admins, teachers etc.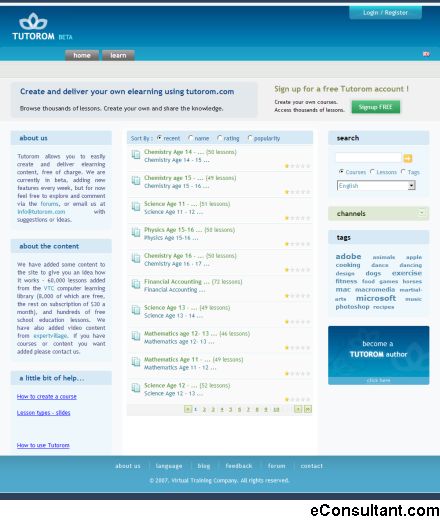 See more : Web 2.0 Sites Logos Index
System Drivers: Is your PC running slow? Speed up your system with the latest System Drivers.
Clean Registry: Is your PC running slow? Speed up your system with a Clean Registry.
Web Hosting: Are you paying too much for web hosting? Compare prices in long list of Web Hosting providers.
Next Post :
Web 2.0 : Utterz
Previous Posts :
One Response to "Web 2.0 : Tutorom"
Web 2.0 Directory : eConsultant « Dostum Blog Says:
September 9th, 2009 at 9:52 pm

[…] | TubeMogul | Tubes | TugLink | Tumblr | Tumri | TUN3R | TuneFind | TuneSquare | Turtilla | Tutorom | TWERQ | Twiigs | Twine | TwitDir | Twitter | Twitteroo | TwitThis | twones | […]
Your turn. Add your comment.
You must be logged in to post a comment.