Web 2.0 : Trulia
Site Name : Trulia
URL : http://www.trulia.com
Description : A residential real estate search engine that helps consumers search for homes for sale, trends, neighborhood insights and other real estate information directly from hundreds of thousands of real estate broker Web sites. You can create your own custom search by price, number of bedrooms, neighborhood and more – without having to submit a lead form, provide personal information or wait to get contacted by a lead qualifier who may not handle the property listing.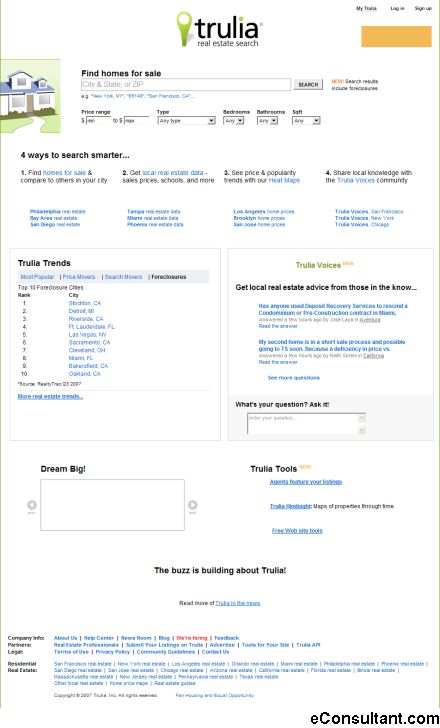 See more : Web 2.0 Sites Logos Index
System Drivers: Is your PC running slow? Speed up your system with the latest System Drivers.
Clean Registry: Is your PC running slow? Speed up your system with a Clean Registry.
Web Hosting: Are you paying too much for web hosting? Compare prices in long list of Web Hosting providers.
Next Post :
Web 2.0 : Trumba
Previous Posts :
One Response to "Web 2.0 : Trulia"
Web 2.0 Directory : eConsultant « Dostum Blog Says:
August 30th, 2009 at 1:58 pm

[…] | Trig | TripCart | Tripim | Tripology | Triporama | TripUp | Trivago | TrueKnowledge | Trugo | Trulia | Trumba | TrustedOpinion | TrustedPlaces | TubeMogul | Tubes | TugLink | Tumblr | Tumri | TUN3R | […]
Your turn. Add your comment.
You must be logged in to post a comment.