Web 2.0 : TechAddress
Site Name : TechAddress
URL : http://www.techaddress.com
Description : TechAddress is a user-generated news, blogging and community website that is built on WordPress' personal publishing platform with some extra bells and whistles. It has been developed to empower maximum communication and exposure for a company's product or service while providing a feedback, voting and opinion environment for users. If you want to post your company's latest news, or perhaps save, comment, vote on, or share an article with a friend, then TechAddress is the place for you.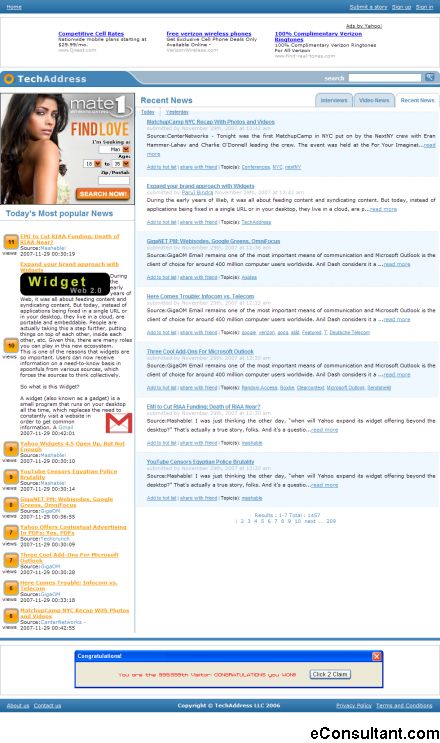 See more : Web 2.0 Sites Logos Index
System Drivers: Is your PC running slow? Speed up your system with the latest System Drivers.
Clean Registry: Is your PC running slow? Speed up your system with a Clean Registry.
Web Hosting: Are you paying too much for web hosting? Compare prices in long list of Web Hosting providers.
Next Post :
Web 2.0 : TechCrunch
Previous Posts :
One Response to "Web 2.0 : TechAddress"
Web 2.0 Directory : eConsultant « Dostum Blog Says:
August 30th, 2009 at 1:54 pm

[…] | Tangler | Tapefailure | TaskBin | Taskee | Tastespotting | TeamSnap | Teamwork Project Manager | TechAddress | TechCrunch | Technorati | Tellme | Terabitz | texms | TextHQ | Texty | Tezaa | The Find | The […]
Your turn. Add your comment.
You must be logged in to post a comment.