Web 2.0 : Swoot
Site Name : Swoot
URL : http://www.swoot.com
Description : On the Swoot portal you will find every browser on any subject. You have to install a one time plug-in and then you can easily access all these browsers. Just use the subject, tag clouds or search bar to explore the many cool browsers. Look around, open the browsers and find everything you're looking for in a fun and fantastic online experience.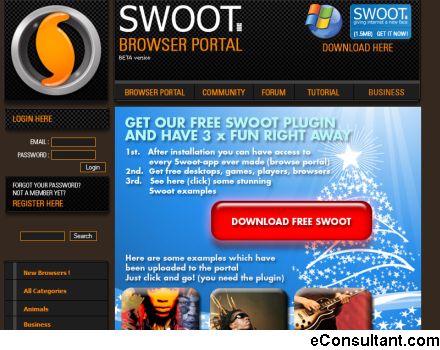 See more : Web 2.0 Sites Logos Index
System Drivers: Is your PC running slow? Speed up your system with the latest System Drivers.
Clean Registry: Is your PC running slow? Speed up your system with a Clean Registry.
Web Hosting: Are you paying too much for web hosting? Compare prices in long list of Web Hosting providers.
Next Post :
Web 2.0 : Thoof
Previous Posts :
One Response to "Web 2.0 : Swoot"
Web 2.0 Directory : eConsultant « Dostum Blog Says:
September 9th, 2009 at 9:49 pm

[…] | SugarStats | SuiteTwo | Summize | Sunsilk | SurfTail | SuTree | SwapTree | Swicki | Swik | Swoot | Symbaloo | Tabber | Tabblo | TagsAhoy | TagWorld | Tailrank | TALICIOUS | Talkr | Talkster | […]
Your turn. Add your comment.
You must be logged in to post a comment.