Web 2.0 : SpringLoops
Site Name : SpringLoops
URL : http://www.springloops.com
Description : Springloops is a unique source code management tool focused on web development teams. It allows you to code in parallel and share your code safely concentrated on results, not on lost changes or overwritten files. You get rapid collaboration in protected space. Thanks to the project management perspective it serves the getting things done attitude. Moreover, Springloops reduces repeatable activities in your day-to-day work. It makes great things simple.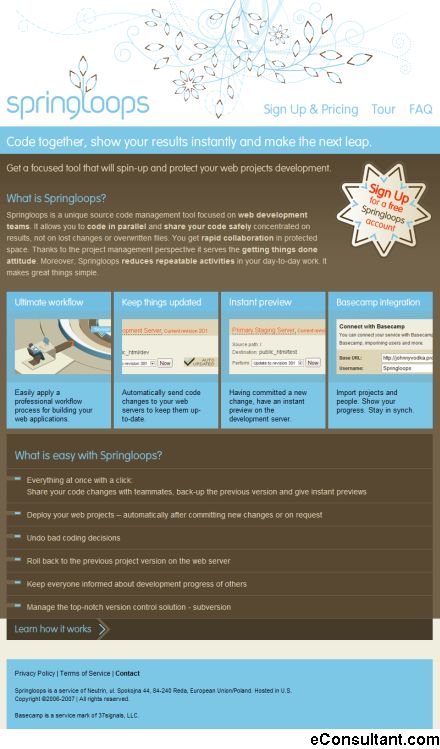 See more : Web 2.0 Sites Logos Index
System Drivers: Is your PC running slow? Speed up your system with the latest System Drivers.
Clean Registry: Is your PC running slow? Speed up your system with a Clean Registry.
Web Hosting: Are you paying too much for web hosting? Compare prices in long list of Web Hosting providers.
Next Post :
Web 2.0 : SpringNote
Previous Posts :
One Response to "Web 2.0 : SpringLoops"
Web 2.0 Directory : eConsultant « Dostum Blog Says:
August 30th, 2009 at 1:53 pm

[…] | Spongecell | Sportingo | SportSnipe | SpotBack | SpotPlex | Spreed | Spresent | Springdoo | SpringLoops | SpringNote | SpringWidgets | Spurl | Sputtr | Squidoo | STAGE.FM | Standpoint | Stardoll | […]
Your turn. Add your comment.
You must be logged in to post a comment.