Web 2.0 : SnapGalaxy
Site Name : SnapGalaxy
URL : http://www.snapgalaxy.com
Description : SnapGalaxy is an online digital photo printing and media social networking service. It lets users send photos to any destination in the world. Besides, providing premium quality prints SnapGalaxy offers loads of features such as : 1. Unlimited Photo Space. 2. PhotoFolio – show your talent personalizing your photos – e.g. 3. VirtualPhoto – Link your photos to blogs, forums and websites. 4. PhotoThemes – choose an appropriate theme for photos. 5. Free Photo Sharing with friends and family – share it, tag it, comment it and have fun. 6. Photo Greeting Cards. 7. Referral Bonus.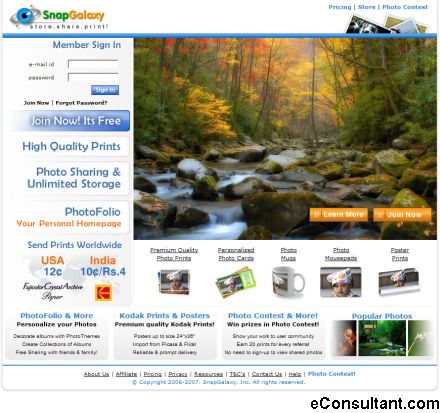 See more : Web 2.0 Sites Logos Index
System Drivers: Is your PC running slow? Speed up your system with the latest System Drivers.
Clean Registry: Is your PC running slow? Speed up your system with a Clean Registry.
Web Hosting: Are you paying too much for web hosting? Compare prices in long list of Web Hosting providers.
Next Post :
Web 2.0 : SnapLayout
Previous Posts :
Your turn. Add your comment.
You must be logged in to post a comment.