Web 2.0 : Send6
Site Name : Send6
URL : http://www.send6.com
Description : SEND6 is a professional service for fast and reliable file delivery on the Internet. SEND6 solves typical problems with sending large digital files online including: – Size limitations when sending or receiving email attachments – Complicated FTP setup and account management – Blocked transfers through Firewalls, Routers, or NATs – No tracking to guarantee delivery of critical files SEND6 also provides a private label business solution that allows companies to easily integrate a custom branded file delivery service into their company website.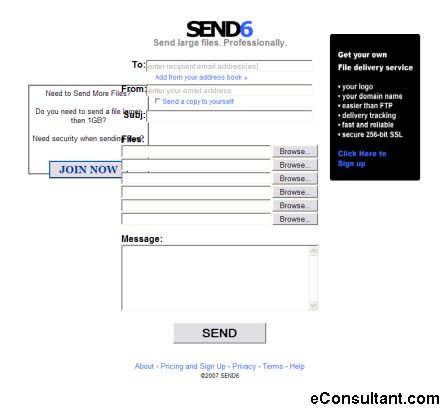 See more : Web 2.0 Sites Logos Index
System Drivers: Is your PC running slow? Speed up your system with the latest System Drivers.
Clean Registry: Is your PC running slow? Speed up your system with a Clean Registry.
Web Hosting: Are you paying too much for web hosting? Compare prices in long list of Web Hosting providers.
Next Post :
Web 2.0 : SongBird
Previous Posts :
Your turn. Add your comment.
You must be logged in to post a comment.