Web 2.0 : Scouta
Site Name : Scouta
URL : http://www.scouta.com
Description : Scouta provides you with personal recommendations for video and podcasts that suit your interests and tastes. It does this based on your favorite online videos or podcasts that you bookmark in your My Scouta account. Scouta also works with iTunes, taking into account all the podcasts and vodcasts that you watch or listen to in iTunes, on your iPod, Apple TV, or iPhone, by using the Scouta Agent.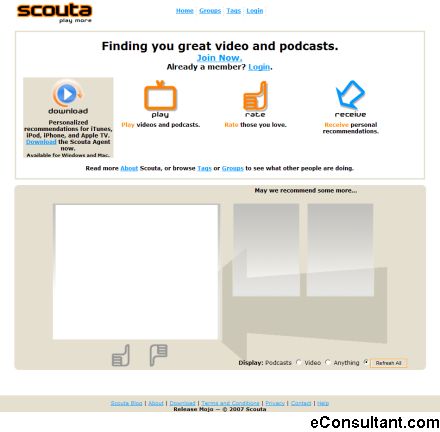 See more : Web 2.0 Sites Logos Index
System Drivers: Is your PC running slow? Speed up your system with the latest System Drivers.
Clean Registry: Is your PC running slow? Speed up your system with a Clean Registry.
Web Hosting: Are you paying too much for web hosting? Compare prices in long list of Web Hosting providers.
Next Post :
Web 2.0 : Shopify
Previous Posts :
One Response to "Web 2.0 : Scouta"
Web 2.0 Directory : eConsultant « Dostum Blog Says:
September 9th, 2009 at 9:44 pm

[…] | Scalenine | Scandigital | scanR | Schmedley | SCHOOPY | SciLink | SciVee | Sclipo | ScondBrain | Scouta | ScrapBlog | Screencast O Matic | Scribe.It | Scriblink | Scrybe | Searchles | SearchMash | […]
Your turn. Add your comment.
You must be logged in to post a comment.