Web 2.0 : Plazes
Site Name : Plazes
URL : http://beta.plazes.com
Description : The Plazes website automatically detects your location and connects you to people and places nearby. See people in your area, discover other locations and follow the whereabouts of your friends. Plazes is not only a web site, it is a service you can use to add location awareness to other applications you frequently use. Display your location in your favorite messenger or set your Skype mood message.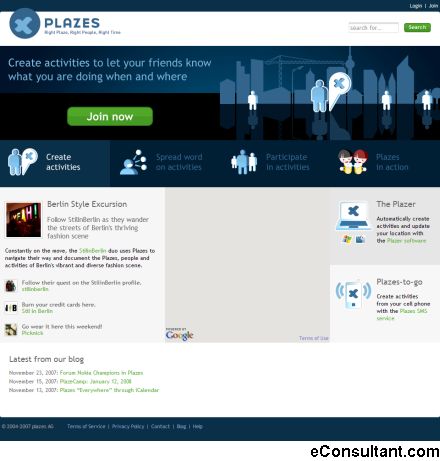 See more : Web 2.0 Sites Logos Index
System Drivers: Is your PC running slow? Speed up your system with the latest System Drivers.
Clean Registry: Is your PC running slow? Speed up your system with a Clean Registry.
Web Hosting: Are you paying too much for web hosting? Compare prices in long list of Web Hosting providers.
Next Post :
Web 2.0 : PrayAbout
Previous Posts :
One Response to "Web 2.0 : Plazes"
Web 2.0 Directory : eConsultant « Dostum Blog Says:
September 9th, 2009 at 9:40 pm

[…] | Pixenate | pixer.us | Pixilis | Pixoo.us | Pix-Yu | Plan2spend | PlanetMiniBox | Plaxo | Plazes | Plime | PlinkMe | Plotbot | Ploud | Pluck | Pluggd | Plum | Plusmo | PMbuzz | Podango | Podbop | […]
Your turn. Add your comment.
You must be logged in to post a comment.