Web 2.0 : ooVoo
Site Name : ooVoo
URL : http://www.oovoo.com
Description : ooVoo is a free program that uses technology to bring affordable and high-quality voice communications to people all over the world. ooVoo is a great way to connect with friends, family, and colleagues using full video and sound. Organize a family get-together, share breaking news, or heckle your friends during your favorite sporting event.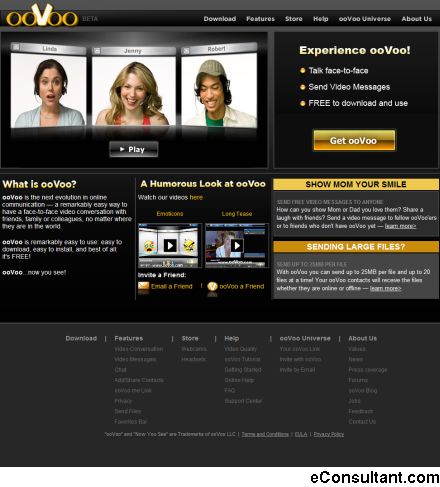 See more : Web 2.0 Sites Logos Index
System Drivers: Is your PC running slow? Speed up your system with the latest System Drivers.
Clean Registry: Is your PC running slow? Speed up your system with a Clean Registry.
Web Hosting: Are you paying too much for web hosting? Compare prices in long list of Web Hosting providers.
Next Post :
Web 2.0 : Povo
Previous Posts :
One Response to "Web 2.0 : ooVoo"
Web 2.0 Directory : eConsultant « Dostum Blog Says:
August 30th, 2009 at 2:07 pm

[…] | Nuvvo | Nymbler | OasisActive | Obopay | Octopz | Odeo | Omnidrive | OneSens | oobgolf | Oondi | ooVoo | OpenCongress | OpenID | OpenKapow | OpMom | Orgoo | Orkut | OurStory | outlandish | […]
Your turn. Add your comment.
You must be logged in to post a comment.