Web 2.0 : Music Strands
Site Name : Music Strands
URL : http://www.musicstrands.com
Description : MusicStrands develops social recommendation technologies to help people discover and enjoy new music. MusicStrands uses statistical machine learning, collaborative filtering, complex network-based analysis, among others, to provide music recommendations based exclusively on the listening behavior of individuals and social networks.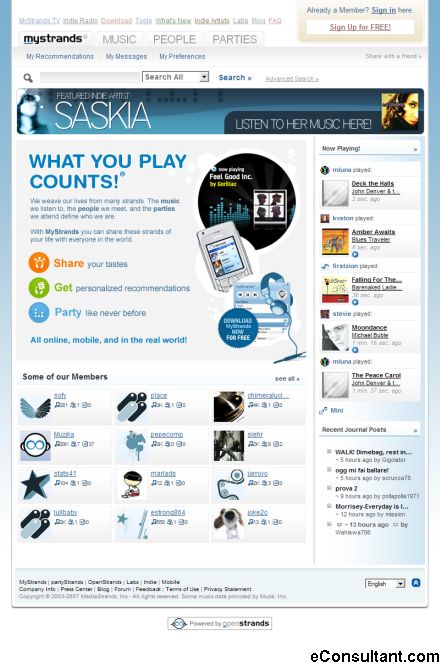 See more : Web 2.0 Sites Logos Index
System Drivers: Is your PC running slow? Speed up your system with the latest System Drivers.
Clean Registry: Is your PC running slow? Speed up your system with a Clean Registry.
Web Hosting: Are you paying too much for web hosting? Compare prices in long list of Web Hosting providers.
Next Post :
Web 2.0 : MusicIP
Previous Posts :
One Response to "Web 2.0 : Music Strands"
Web 2.0 Directory : eConsultant « Dostum Blog Says:
September 9th, 2009 at 9:56 pm

[…] MoviBee | Mp3Realm | Msgme | Mubito | Mugshot | Muiso | Multiply | Mumspace | Musana | MuseStorm | Music Strands | MusicIP | MusicMesh | Musigy | MxGraph | MXplay | MyAdSource | MyBlogLog | MyChurch | MyDogSpace […]
Your turn. Add your comment.
You must be logged in to post a comment.