Web 2.0 : Msgme
Site Name : Msgme
URL : http://www.msgme.com
Description : Msgme is a mobile messaging platform that gives content owners the ability to add mobile interactivity to their current marketing – online, print, broadcast, or in-venue. The easy-to-use web interface makes self-publishing effortless and gives content owners the power to create flexible mobile campaigns, customize their content delivery and send broadcast messages to their fans, customers, constituents, and friends. In seconds, Msgme can help you create a mobile presence for your company, brand, organization, political campaign, or band.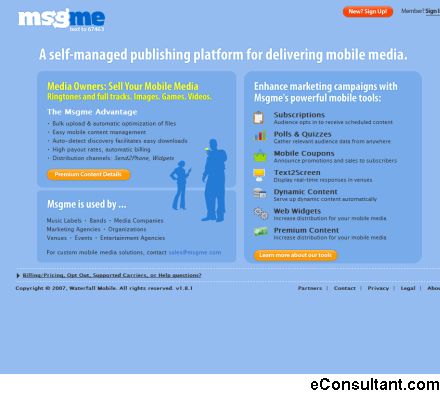 See more : Web 2.0 Sites Logos Index
System Drivers: Is your PC running slow? Speed up your system with the latest System Drivers.
Clean Registry: Is your PC running slow? Speed up your system with a Clean Registry.
Web Hosting: Are you paying too much for web hosting? Compare prices in long list of Web Hosting providers.
Next Post :
Web 2.0 : Mugshot
Previous Posts :
One Response to "Web 2.0 : Msgme"
Web 2.0 Directory : eConsultant « Dostum Blog Says:
September 9th, 2009 at 9:56 pm

[…] | Mosio | mosoto | MothersClick | Motortopia | MovableLife | MovableType | MoviBee | Mp3Realm | Msgme | Mubito | Mugshot | Muiso | Multiply | Mumspace | Musana | MuseStorm | Music Strands | MusicIP | […]
Your turn. Add your comment.
You must be logged in to post a comment.