Web 2.0 : MovableType
Site Name : MovableType
URL : http://www.sixapart.com/movabletype/
Description : Movable Type is an extensible platform with many robust features already built in, and thanks to our active developer community we have hundreds of plug-ins to make your Movable Type blog even more powerful. More businesses choose Movable Type than any other platform, from independent professionals to the Fortune 500.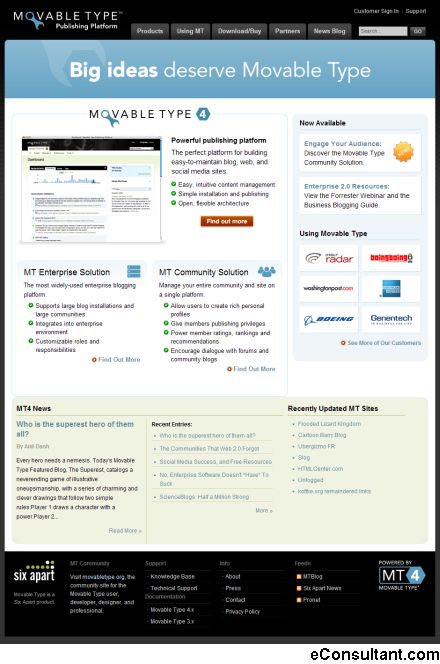 See more : Web 2.0 Sites Logos Index
System Drivers: Is your PC running slow? Speed up your system with the latest System Drivers.
Clean Registry: Is your PC running slow? Speed up your system with a Clean Registry.
Web Hosting: Are you paying too much for web hosting? Compare prices in long list of Web Hosting providers.
Next Post :
Web 2.0 : MoviBee
Previous Posts :
One Response to "Web 2.0 : MovableType"
Web 2.0 Directory : eConsultant « Dostum Blog Says:
August 30th, 2009 at 2:03 pm

[…] Moo | Moonk | Mosaickr | MoshiMonsters | Mosio | mosoto | MothersClick | Motortopia | MovableLife | MovableType | MoviBee | Mp3Realm | Msgme | Mubito | Mugshot | Muiso | Multiply | Mumspace | Musana | MuseStorm […]
Your turn. Add your comment.
You must be logged in to post a comment.