Web 2.0 : mosoto
Site Name : mosoto
URL : http://www.mosoto.com
Description : Mosoto is a new way to share and connect with your facebook friends. With Mosoto you can easily share files, chat with friends and discover people and media in your social network. Because Mosoto is built ontop of Facebook your friends and social network are already here. Mosoto is streaming social media.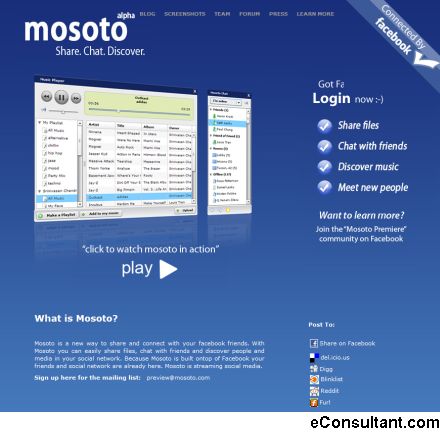 See more : Web 2.0 Sites Logos Index
System Drivers: Is your PC running slow? Speed up your system with the latest System Drivers.
Clean Registry: Is your PC running slow? Speed up your system with a Clean Registry.
Web Hosting: Are you paying too much for web hosting? Compare prices in long list of Web Hosting providers.
Next Post :
Web 2.0 : Musana
Previous Posts :
One Response to "Web 2.0 : mosoto"
Web 2.0 Directory : eConsultant « Dostum Blog Says:
September 9th, 2009 at 9:56 pm

[…] | momondo | mon.itor.us | Monetime | Monkeyon | Moo | Moonk | Mosaickr | MoshiMonsters | Mosio | mosoto | MothersClick | Motortopia | MovableLife | MovableType | MoviBee | Mp3Realm | Msgme | Mubito | […]
Your turn. Add your comment.
You must be logged in to post a comment.