Web 2.0 : MediaMaster
Site Name : MediaMaster
URL : http://www.mediamaster.com
Description : MediaMaster lets you store all your music in one place and access it from any internet connected computer or stream player. Having your music stored and organized in one place has several advantages: Its accessable from anywhere you have an internet connection ; It allows you to make more room on your computer for other important data ; Its safe and secure – your music will never vanish with a lost, stolen or damaged machine.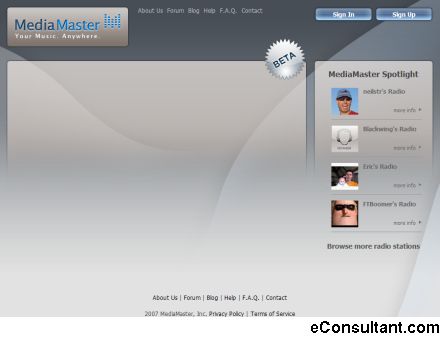 See more : Web 2.0 Sites Logos Index
System Drivers: Is your PC running slow? Speed up your system with the latest System Drivers.
Clean Registry: Is your PC running slow? Speed up your system with a Clean Registry.
Web Hosting: Are you paying too much for web hosting? Compare prices in long list of Web Hosting providers.
Next Post :
Web 2.0 : MediaME
Previous Posts :
One Response to "Web 2.0 : MediaMaster"
Web 2.0 Directory : eConsultant « Dostum Blog Says:
September 9th, 2009 at 9:55 pm

[…] Lulu | LUNARR | Luvup | Lypp | lyro | Mango | mapdango | MashupFeed | Me.com | MEDgle | MediaFire | MediaMaster | MediaME | MediaStores | Meebo | meebome | MeetMoi | Meez | MegaBuzz | MessengerFX | MetaGlossary […]
Your turn. Add your comment.
You must be logged in to post a comment.