Web 2.0 : Lypp
Site Name : Lypp
URL : http://lypp.com
Description : Lypp is a free group calling service that uses your existing landline or mobile number and requires no additional client software. Calls are initiated using instant messaging (all of the major IM networks are supported) and the service also works from the IM clients installed on popular mobile devices, such as Windows Mobile and RIM's BlackBerry phones. The web application and calling sentry are written in Ruby and an API enables integration of many more group calling features with other web applications and services.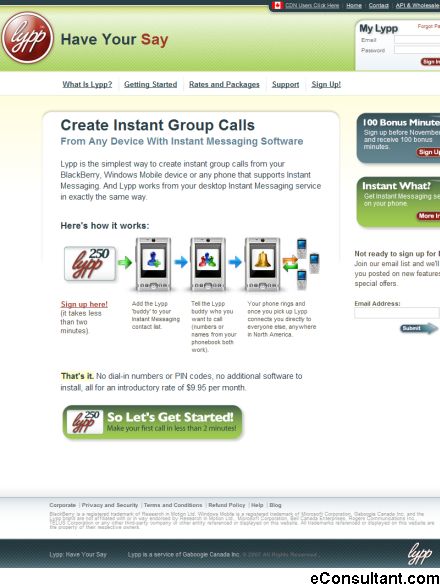 See more : Web 2.0 Sites Logos Index
System Drivers: Is your PC running slow? Speed up your system with the latest System Drivers.
Clean Registry: Is your PC running slow? Speed up your system with a Clean Registry.
Web Hosting: Are you paying too much for web hosting? Compare prices in long list of Web Hosting providers.
Next Post :
Web 2.0 : mapdango
Previous Posts :
One Response to "Web 2.0 : Lypp"
Web 2.0 Directory : eConsultant « Dostum Blog Says:
September 9th, 2009 at 9:54 pm

[…] | LoomTV | LoopNote | Loopster | Loopt | LouderVoice | LoudTalk | Lovento | Lulu | LUNARR | Luvup | Lypp | lyro | Mango | mapdango | MashupFeed | Me.com | MEDgle | MediaFire | MediaMaster | MediaME | […]
Your turn. Add your comment.
You must be logged in to post a comment.