Web 2.0 : Listible
Site Name : Listible
URL : http://www.listible.com
Description : By using Web 2.0 features such as AJAX, folksonomy (tagging), social elements such as voting/commenting and the listible's listonomy (listing), resources can be sorted in a way that will be digestible. You can search what you need quick. You can contribute your resources easier. All of these technologies are powered by LAMP and Symfony PHP framework..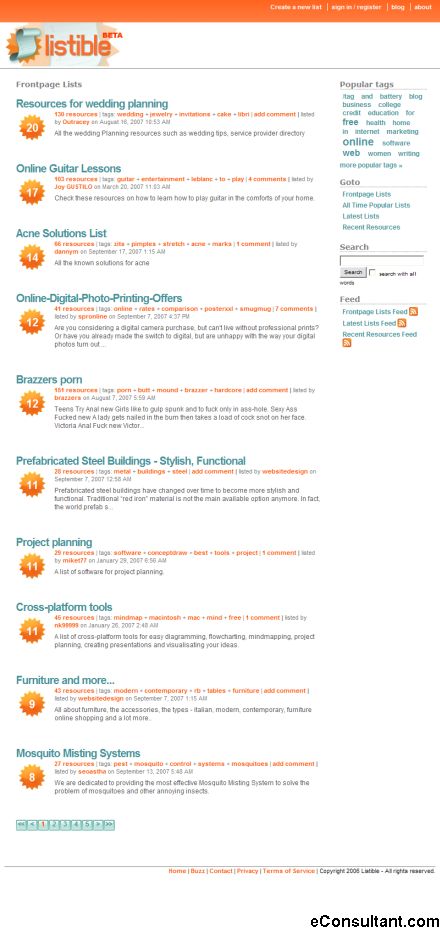 See more : Web 2.0 Sites Logos Index
System Drivers: Is your PC running slow? Speed up your system with the latest System Drivers.
Clean Registry: Is your PC running slow? Speed up your system with a Clean Registry.
Web Hosting: Are you paying too much for web hosting? Compare prices in long list of Web Hosting providers.
Next Post :
Web 2.0 : ListPhile
Previous Posts :
One Response to "Web 2.0 : Listible"
Web 2.0 Directory : eConsultant « Dostum Blog Says:
August 30th, 2009 at 2:01 pm

[…] Last.fm | LiberatedFilms | LikeVid | Lime | Lingoz | LinkedIn | LinkYa | ListAfterlList | Listal | Listible | ListPhile | LittleEngine | LiveDocuments | LiveLook | LiveRail | LiveVideo | LivingMemory | […]
Your turn. Add your comment.
You must be logged in to post a comment.