Web 2.0 : Kudos
Site Name : Kudos
URL : http://kudosnow.com
Description : A simple thank you has always been the most direct way to motivate and retain employees. Now there is a quick, fun and easy way for any organization to harness the power of recognition on an unprecedented scale. Kudos enables anyone to send a virtual pat on the back to anyone else in an organization. Now recognition can come from anywhere, anytime, in seconds. But the positive effects can last for years.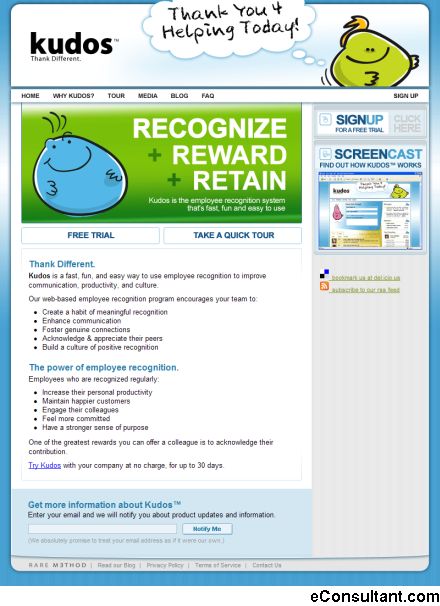 See more : Web 2.0 Sites Logos Index
System Drivers: Is your PC running slow? Speed up your system with the latest System Drivers.
Clean Registry: Is your PC running slow? Speed up your system with a Clean Registry.
Web Hosting: Are you paying too much for web hosting? Compare prices in long list of Web Hosting providers.
Next Post :
Web 2.0 : MEDgle
Previous Posts :
One Response to "Web 2.0 : Kudos"
Web 2.0 Directory : eConsultant « Dostum Blog Says:
September 9th, 2009 at 9:53 pm

[…] | KnockaTV | KnowNow | Koinup | Kontactr | KoolIM | KoolWIRE | Koonji | Koral | Kratia | kSolo | Kudos | KushCash | L8r | LabPixies | Last.fm | LiberatedFilms | LikeVid | Lime | Lingoz | LinkedIn | […]
Your turn. Add your comment.
You must be logged in to post a comment.