Web 2.0 : Jaman
Site Name : Jaman
URL : http://www.jaman.com
Description : Jaman is the way people discover, enjoy and share world cinema. Jaman's global online community is pioneering social cinema. It is a new destination for moviegoers to watch and discuss the world's best films. Having curated and assembled one of the world's largest online libraries of feature films and documentaries, Jaman provides filmmakers and studios a secure way to distribute and market films worldwide. Cascade, Jaman's global peer to peer network, delivers movies with better-than-DVD quality to Macs, PCs or home entertainment systems via a sleek, device-independent player.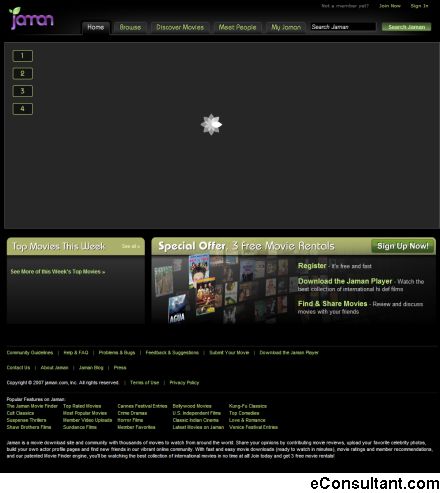 See more : Web 2.0 Sites Logos Index
System Drivers: Is your PC running slow? Speed up your system with the latest System Drivers.
Clean Registry: Is your PC running slow? Speed up your system with a Clean Registry.
Web Hosting: Are you paying too much for web hosting? Compare prices in long list of Web Hosting providers.
Next Post :
Web 2.0 : JamboNetworks
Previous Posts :
Your turn. Add your comment.
You must be logged in to post a comment.