Web 2.0 : Cellswapper
Site Name : Cellswapper
URL : http://www.cellswapper.com
Description : CellSwapper has developed a system to keep both cellular consumers and carriers happy. Through its patent pending system, CellSwapper allows millions of unhappy cellular users to transfer their contract to another consumer for the remainder of the contract period. The consumer is fully absolved of all responsibility and is free to initiate a new plan with a different carrier. This system also provides an exclusive deal for those looking to start a wireless service plan a short-term contract with no activation fees that may run as high as $45.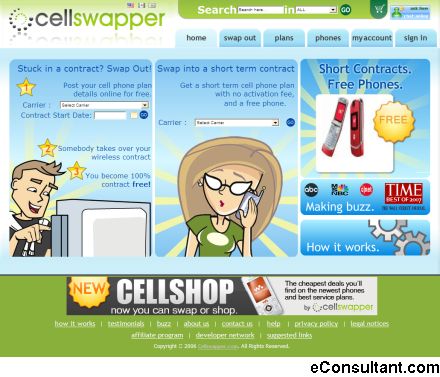 See more : Web 2.0 Sites Logos Index
System Drivers: Is your PC running slow? Speed up your system with the latest System Drivers.
Clean Registry: Is your PC running slow? Speed up your system with a Clean Registry.
Web Hosting: Are you paying too much for web hosting? Compare prices in long list of Web Hosting providers.
Next Post :
Web 2.0 : Celltell
Previous Posts :
Your turn. Add your comment.
You must be logged in to post a comment.